May 2019
Designed by Swiss architecture firm Herzog & De Meuron, 'jade signature' is a residential beachfront tower in sunny isles beach, Florida. construction began in 2013, with the structure in the Miami region completing in 2018. residences within the 57-story building include 192 units, from 1-bedroom apartments to penthouses — in addition to six guest suites. amenities include a private pool and beach, while an exclusive clubroom with an outdoor terrace is also provided alongside a health and wellness center.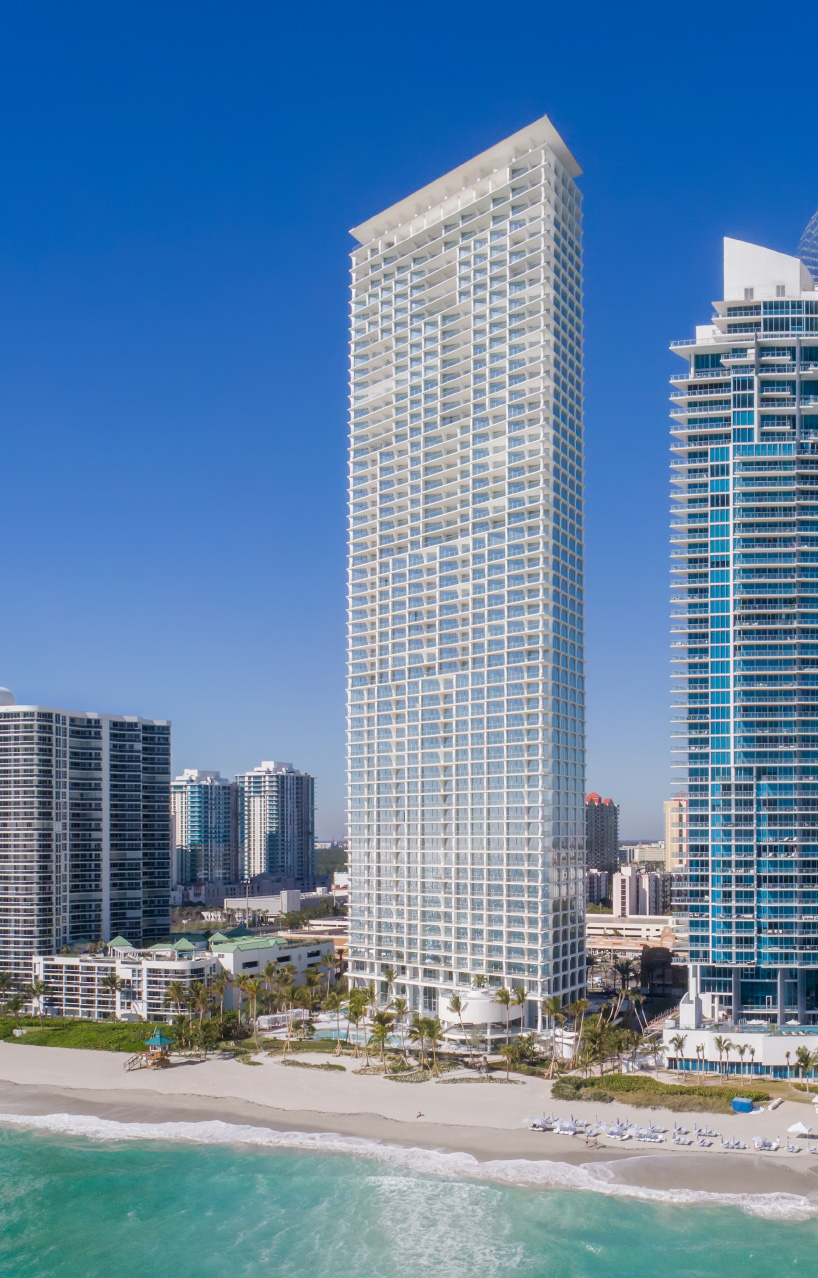 all images by DBOX
Jade signature has been designed by Herzog & de Meuron, with Pierre-Yves Rochon responsible for the scheme's interiors. meanwhile, landscape architect Raymond jungles has conceived a lush 'botanical journey' that surrounds the tower's base, with three levels of car parking positioned underground. the building's parallelogram footprint was derived from an extensive study of the sun's movement throughout the day. strategically positioning the building at an oblique angle to the ocean maximizes exposure to the sun, allowing daylight to have an extended presence on the beachside landscape and residences.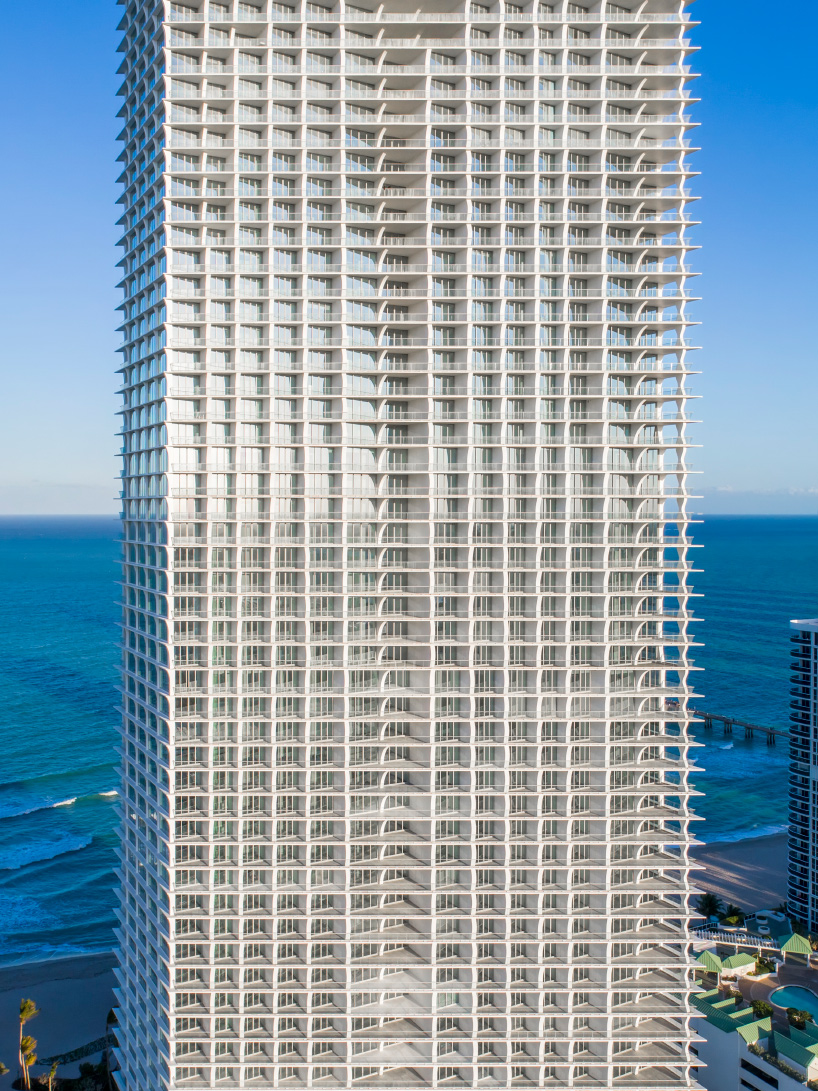 residences offer sweeping views both eastward over the ocean and westward over the bay and city. natural ventilation is provided by 'flow-through' layouts for all units with three or more bedrooms. earlier this year, Fortune International Group — the developers behind the project — announced that one of the tower's penthouses sold for $18.5 million with the building now close to selling out. 'this latest transaction exemplifies the unmistakable allure jade signature retains worldwide,' says Edgardo Defortuna, president & CEO, Fortune International Group.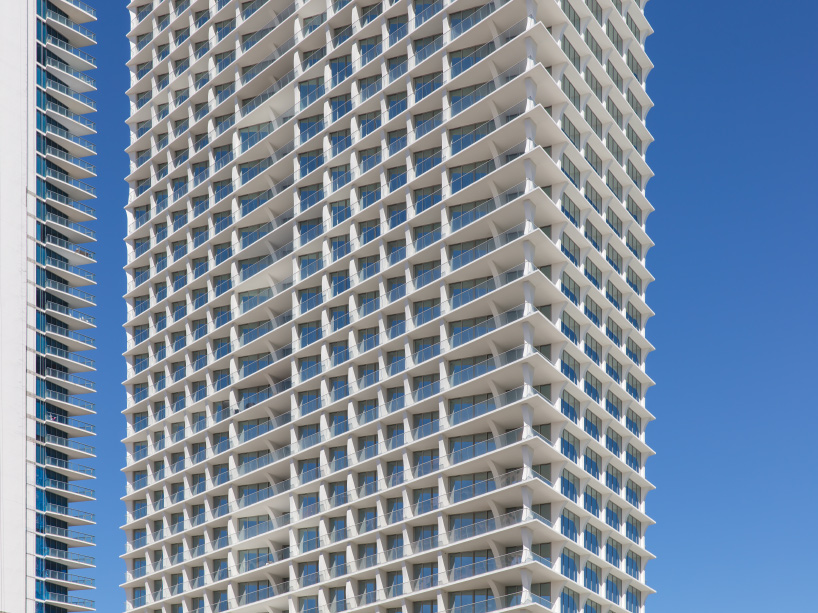 rather than designing yet another glass tower, a greater emphasis was placed on the building's structural qualities.'jade signature is very much about bringing the structure to the fore, so glass is protected from the sun and the heat and large terraces are provided throughout. that is what really works well in the miami climate,' explains herzog & de meuron.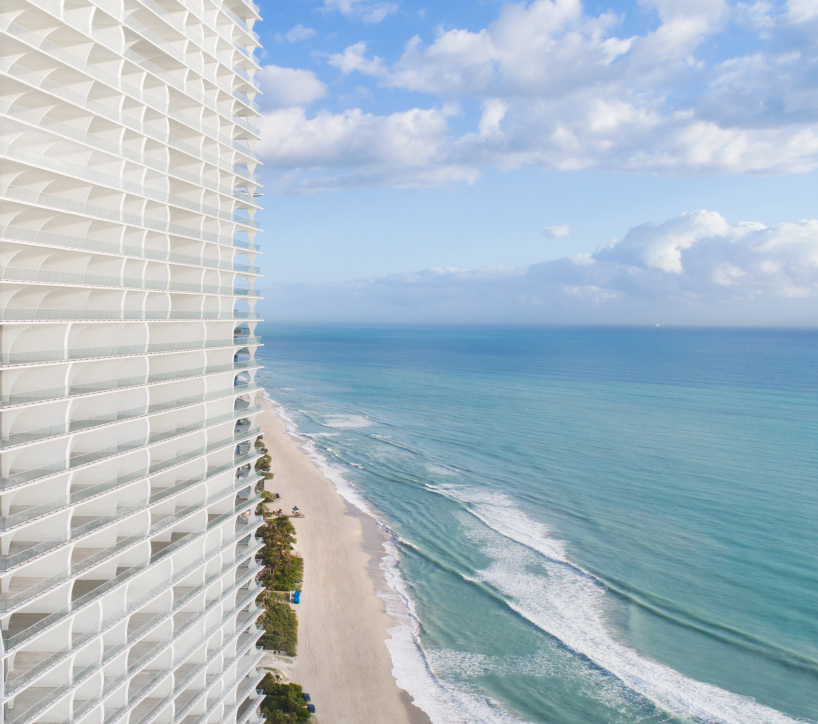 'the project uses structure in the most basic way, a structure that you have anyway, and turns it into something sculptural,' continue the architects. 'this sculptural effect is not decorative; it comes from a combination of desired views and necessary visual protection. it is almost like an alphabet that we developed for the building: which wall can do what, which slab can do what, which column can do what. the structure is the architecture.'